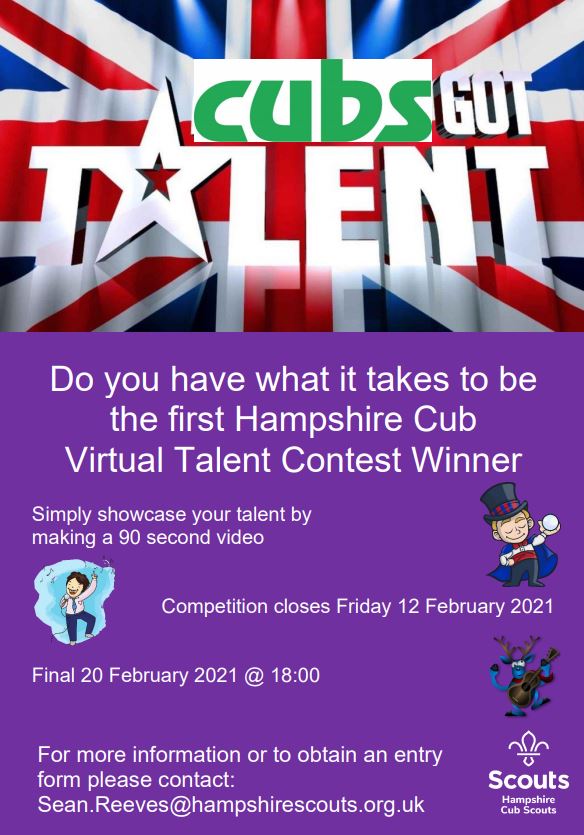 As a way to engage with our young people during this pandemic the Cub Team have come up with a virtual event.
Calling all cubs that can – sing, tell jokes, juggle, acrobatics, dance, recite poetry, magic, talk backwards, ventriloquism, eyebrow dancing, sporting skill and any other skill you can imagine.
Please encourage your cubs to share their talents with the County by recording a 90 second clip.
Closing dates for entries is: 12th February
Show day is: 20th February at 6pm
For more details contact Sean Reeves. [email protected]
Coronavirus Survey
The Hampshire Scouts Programme support Team can't wait for the return of face to face Scouts, and want to be here to support all leaders when we can go back.
To find out the best ways we can offer this support, and to see how groups are managing with the current situation, we're running a short survey, so we can help out as much as possible and hit the ground running as restrictions are lifted. 
Please find the survey here, it would be great if you could complete it by Thursday 10th December.
Supporting the Cub Scout section - Zoom meeting
On Wednesday 16th December we're holding a Zoom meeting for everyone involved in the Cub Scout section, across Hampshire.
Join us from 7:30pm for a chance to share programme ideas with other Cub Scout Leaders, or just to catch up and look forward to 2021! We will have the preliminary results of the survey to discuss and news of our thinking for next year.
Thank you to all the leaders that were able to attend the virtual meeting.
For those that were unable to attend, the minutes are available below. Please remember the Scrapheap Challenge dates.
scouts.org.uk programme planner
Online activities - If you're not meeting face-to-face because of the coronavirus pandemic, you can still stay connected with your section/Group/unit online. COVID-19 doesn't have to stop you trying new things, learning skills, and working towards badges and awards, over 41.6 million minutes of Scouts sessions have been run online already.
Scout at Home - scouts.org.uk activities at home
Basingstoke East District have developed 'Scout at Home' online tool which enables young people to continue completing badges at home. Groups from across the UK are welcome to sign up - badges.bescouts.org.uk. 
gps.scout.org Discover the new World Scouts tool to review or design a relevant and attractive Programme.
Restart risk assessments - Before you restart face-to-face activities, you need to have a COVID-19 safe risk assessment that's been agreed by your line manager. This is separate to your activity risk assessments; it just deals with controlling risks related to the spread of COVID-19.
Activity risk assessments - You also need to risk assess your activities as normal (and document it). This doesn't need to be approved, but it's good to share it with your Group Scout Leader.
scouts.org.uk covid-19 safe programme ideas
Date/Time: Saturday 30th January 2021 10am
As with most things this year the County Scrapheap Challenge will be run slightly differently – it will be an individual event.
Each district is asked to select a cub to represent them. As a District it is up to you how you select your entry – section and/or district competitions. But please remember you MUST adhere to the local COVID Guidelines.
Each District can enter one cub into the county competition. They must be available on the 30th January to join a zoom meeting to "show and tell" their model to the judge.
The cub should make the item using only the recycling materials and craft products listed below and it should have taken them no longer than an hour to make. Please note they don't have to use all the items in the making of their model.
There can be only ONE entry per District - ADCs please email your entry confirmation by 16th January to [email protected]
The Theme for the model is: 'Funfair'
Materials to use:
Pencil/pen
2 egg boxes
10 pipe cleaners or 1m of garden wire
2 small water bottles
1 large cereal box
2 small empty match boxes
1 kitchen roll tube
4 single yoghurt pots
1 large yogurt pot
1 butter/spread tub
2 fruit/veg (berries/grapes) plastic trays
Paper clips
2m of string
a pair of scissors
6 rubber bands
Paint pots and brushes - Water based paints only – primary colours plus black and white
Glue/sticky tape
Click here for the Hampshire Scouts Pennant template
Hampshire Scouts have embarked on a new project involving every Section, Group and Unit in Hampshire, bringing us all together as we start to return to normal Scouting. The idea is for each Section, Group and Unit to create a pennant so we can join them together and display them at Activity Centre locations and future events.
We would like your Section, Group or Unit to design and draw these pennants, using the provided template. For your pennant, we would like your young people to draw a picture on the front of something they enjoy within Scouts, or something they are looking forward to doing. On the back of the pennant, please can you include some information about your Section, Group or Unit (your Section/Group name and Group logo/badge) and the first names (no last names) of the young people within your Section, Group or Unit (this can be handwritten or typed). Please send in your ONE chosen pennant per Section.
We will leave the activity up to you to plan, but this could be done face to face (following the COVID guide lines) or virtually. One idea would be to run it as a competition, where each young person designs the front of the pennant and a winner is chosen. This can also count towards certain badges, like the creative activity badge.
Once you have drawn your pennant, please copy it and keep a copy for your Section/Group/Unit, then please email it to us at [email protected] If you would like to see your pennant displayed at our Christmas event, please send them in by the 5th December 2020.
If you have any questions, please contact us at [email protected] 
click here to see an example Programme-Pixies-Pennant.pdf
Hampshire Cub Scouts section Zoom meeting for everyone involved in the Cub section.
Saturday 12 September 10am til 12
We plan to bring you any HQ and Hampshire County Scouts news
Give you an opportunity to discuss any issues/good practices
Discussed ways to help Pack leaders increase their knowledge
Please log on and join us - https://zoom.us/j/93109857615 Passcode: 849273 or Dial in via 0203 481 5240 Meeting ID: 931 0985 7615 Passcode: 849273
Thelma Young is continuing to disseminate information and is working with Deputy County Commissioner - Programme, Teresa Ginn, to support you.
Vacancies - Assistant County Commissioner - Cub Scouts, and members of the County Cub Scout team. If you would like to join the team please contact Deputy County Commissioner - Programme [email protected]

Save the date - Hampshire Scout section Zoom meeting for everyone involved in the Scout section. Wednesday 23 September 7:30pm til 9:30. More info on the Scout section page.
Assist the ADCs - Cub Scouts in the encouragement of all in the Cub Scout sections to provide a balanced programme via;
Promotion
Encouragement
Teamwork
Work in partnerships
Maintaining relevant contact
Having FUN!
You should enjoy;
Workshop Meetings
Being part of the Hampshire Scouts Programme team
Staying relevant
Supporting with practical skills
Sharing success stories
and you thought the role was boring!
Interested?
Please contact: Teresa Ginn
Deputy County Commissioner - Programme [email protected]
Whether you're an experienced Akela or new to the pack, the Scouts' new programme planning tool is here to make planning for your pack easy peasy.
Available at scouts.org.uk/programme-planner, it's the result of years of work and is full of ideas directly linked to badges, awards and the Chief Scout's Silver Award.
A programme on a plate.
Starting out or don't know where to start? When you create a new programme then you have the option to import a full 2 year programme with a host of balanced sessions that cover pretty much everything you would need in the programme.
Plus as it covers all seven challenge awards, a Cub Scout who follows this programme for a full 2 years will be well at the finish line of their top award – the Chief Scout's Silver Award. This is especially good if you find not many of your Cubs are reaching the top at the moment. Why not spend a few minutes giving it a glance.
Take a pick of your activities.
We've all been in a situation like this. Our Cubs are finding a classic skill boring or we don't want to repeat the exact same activity we did last year. Forcing them to do something they don't like will not work and we would rather not have to deal with the behaviours boredom can create. What to do?
The programme planning tool can help here as well. The tool is packed full of activities that work towards the badge requirements and often in ways you wouldn't have thought of first time. Plus for badge requirements these activities are super easy to find. Just find the badge on the scouts website and underneath it is a teal coloured box with loads of activities that you can use for this badge. And these activities keep on growing so you won't be stuck for choice.
How good are the activities?
The activities include everything you might need to think about including safety messages, reflections, print outs and resources and which groups it works well for. These activities have really come into their own since the coronavirus pandemic as lots can be repurposed easily for the Great Indoors.
And for those who prefer OSM activities then we have good news for you. A lot of these activities are so good they've been included in OSM's activities database as well.
Why not give it a go today.
Free resources? Yes please! A growing number of organisations have made resources for us to use to help deliver the Cub activity badges quickly and easily. Let's take a look at 5 activity badges with great resources thanks to supporters.
Collector with Pokémon
Just think how many of our Cubs have had Pokémon cards at some point over the past few years. Hundreds if not thousands for sure. When we ask our Cubs about collections it's quite possible they will reach for the collector cards.
Or maybe your Cubs have asked for a Pokémon evening as a recent pack forum and now you've got to make it happen. Look no further.
So why not try these games and activities all with a Pokémon twist to keep them engaged. Plus you can order free cards to get their collection started ahead of a meeting.
Catch 'em all at scouts.org.uk/supporters/pokémon
Hikes Away and Nights Away with Go Outdoors
Where do we start with Go Outdoors? Well how about the discounts: 10% off for Cub Scouts and 15% off for leaders.
Plus there are booklets specifically for preparing for a hike and night away getting our Cubs to think about what they'll need. Plus there are Make Do Share activities on exploring the countryside code, caring for our boots and a whole book on Campfire Cooking!
Grab your gear at scouts.org.uk/supporters/go-outdoors
Digital Maker with Raspberry Pi
Our Cub Scouts these days practically live on computers but do they know how it all works? This is such an important skill but you may not know how to begin or how to make them understand. Enter Raspberry Pi.
If you thought of dessert then think again. They make a small, easily codable computer (think BBC Micro but the size of a credit card) that older children often learn how to use and they're all about teaching kids how computers work.
They've made a series of packs that cover every part of the Digital Maker badge with fun direction games that ground them in Scouts trademark outdoor activities. Plus there are videos to help you as well so anyone can use it.
Don't have an internet connection? No problem because lots of activities can be done without it.
They're here for you, no matter if you get your Scratch and micro:bits mixed up.
Connect at scouts.org.uk/supporters/raspberrypi
Scientist with RollsRoyce
It's time to be scientists with our little green brainiacs but want to do something a bit different than Mentos and Coke? RollsRoyce have got you covered.
They've got a whole host of Make Do Share activities on a range of topics that all have a science theme as well as cool experiment ideas our Cubs can do at Cubs or at home.
Set the experiment in motion at scouts.org.uk/supporters/rollsroyce
Animal Carer with Pets at Home
Pets at Home's support for the Animal Carer badge is two pronged: store visits and activities.
Cub packs can arrange for visits to Pets at Home stores to see animals and learn how to look after them so put it in the diary for when face to face Scouting resumes.
The list of activities though is not limited to one place or time. With a whole host of activities from Make Do Share ready to use there is also a whole activity book which our young people and pick up and earn. Discover it all at scouts.org.uk/supporters/petsathome
We all like to know when we're doing a good job and know what we could improve. If we never learn from our failures then we're doomed to repeat them and we wouldn't continue to grow as a movement.
So how do we know when we're doing a good job? Thankfully the answer can be found on one sheet of paper. Enter the Quality Programme Checker (Find it on the Scouts website here)
Simply glance through each of the statements and work out whether your pack falls under the red, amber or green statement. If you've got mostly greens then you've got something good going on there whereas an amber or red might prompt you to think what we can do to change that.
This isn't about inspections or gradings, but is a supportive document for you to help you be the very best your pack can be. Thankfully there are resources to help you fix each of these areas. It only takes 5 minutes but they can be very rewarding and useful.