Creative skills were put to the test among young people from across Hampshire last month as they competed in their virtual Scrapheap Challenge.
The Cub Scouts competition for eight to 10-year-olds saw the youngster build a model from scrap materials around their home.
With one week to build their models on a funfair theme, 10 districts from Hampshire took part.
Thelma Young, an adult volunteer with the Cub Scouts and an organiser of the event, says the competition was good fun and exactly what everyone needed.
She said: " The cubs really seemed to have enjoyed making their models and were very creative. It was lovely to see the Cub Scouts engaging with the day and all spoke with confidence to adult volunteers they don't know.
"Seeing the young people enjoying themselves during these troubled times makes all the effort the adults put into Scout activities worthwhile."
In usual circumstances, six Cub Scouts from each District would meet at a Scout Activity Centre to be to be provided with the materials and told what theme their models should be.
Teams are then scored on teamwork, communication and creative skills with the winner announced at the end of the day.
But due to the suspension of face-to-face activities, the event went online but that didn't dampen the spirits of everyone involved.
Thelma continued: "We were delighted to have Peter Marcus, our County Youth Commissioner, come and judge the models.
"Simon, our new lead volunteer for the Cubs Section in Hampshire shared some words on the importance of recycling too."
Congratulations to Odiham District who were the winners of the bi-annual event which will return in November 2022.
Words by Sam Poole, pictures by Thelma Young.
As Scouts we love to get outdoors and try new things. But with winter and everything going on, we know its hard to think of ideas of what to do right now. To help you deliver great online Scouting, we've pulled together our list of places to find great ideas.
Press Play activities
These two sources of activities are much newer so you may not have heard much about them yet. Both of them are prepared by Scout leaders for Scout leaders and you can pick them up and run them with your section without much planning or adaptation needed.
Press Play and Go activities are made by HQ and have a video activity you can share with your Zoom session directly with the video doing all the work. New activities arrive every week and there are activities for Beavers/Cubs and Scouts/Explorers.
1st Digital Scouts is the new kid on the block with videos by Scout Content. These videos are nice and short, follow a good structure for zoom sessions, and give you up front what you'll need. There are weekly videos for Beavers, Cubs, Scouts and Explorers ready to go.
Ideas from the grassroots
Across the UK there are loads of other leaders looking for ideas and sharing what they've found in various different Facebook groups. 1st Virtual Scout Group on Facebook and 1st Facebook Scout Group are the big ones. The posts in these groups are easily searchable and linked together in topics.
There are lots of activities out there including PowerPoints for activities, games, escape rooms and links to more external resources. Lots of charities are offering activities that can work over Zoom, the RNLI being a good example, and there are many guest presenters that leaders can invite to show off their skills or animals or whatever!
Activities linked to badges
So you may know about the new Scouts Activities tool already – it replaced the old Programmes on a Plate and is linked to the Programme Planning Tool that HQ is building and adding to. Throughout this weird time, the Scouts and the partners have been adding to this Activity index and adding new filters to make it searchable – so you can look at just online activities for example.
More usefully though, these activity listings can also be found on the pages for different badges on the Scout websites. At the bottom of these pages, below the badge requirements, is a box with activities that can be used to tick off these requirements. While some might need tweaking, there are lots of activities that you can use to get things started.
Some other honorable mentions:
Scoutadelic are a YouTube channel run by Scout leaders and they make great videos teaching lots of different scouting skills from first aid to campfire songs.
Chester Zoo have made lots of resources and activities to support people at home, with fun activities, spotting the signs of your animal visitors and more practical experiences pitched at lots of different age ranges.
Scout Adventures have long made resources to support leaders with practical Scout skills and their page also has some smashing recipes as well.
The Scouts have put together some virtual programme support webinars, to help with the basics of running a putting over Zoom if you're feeling unsure about how it will all work.
Do you need help with getting your section to meet and take part in activities or can you offer support to another group? Please do reach out and contact our programme team, who are always happy to help provide support!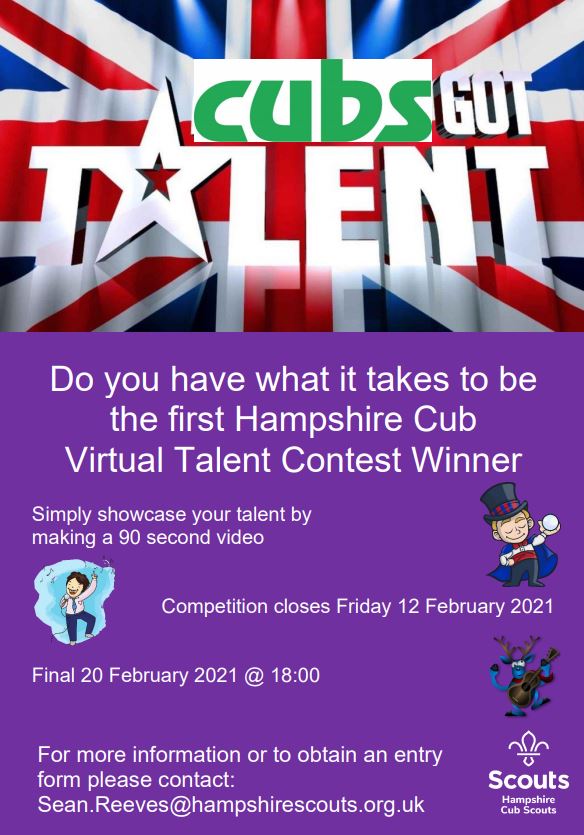 As a way to engage with our young people during this pandemic the Cub Team have come up with a virtual event.
Calling all cubs that can – sing, tell jokes, juggle, acrobatics, dance, recite poetry, magic, talk backwards, ventriloquism, eyebrow dancing, sporting skill and any other skill you can imagine.
Please encourage your cubs to share their talents with the County by recording a 90 second clip.
Closing dates for entries is: 12th February
Show day is: 20th February at 6pm
For more details contact Sean Reeves. [email protected]
We all do risk assessments or safety checks everyday, for example, when we cross the road. We choose an appropriate place to cross, look both ways and make a decision about whether it's safe to cross.
We know that children and young people learn by doing. Activities encourage the development of young people and they can feel a huge sense of achievement in completing them. We want to provide EXCITEMENT but not DANGER; ADVENTURE but not HAZARD.
Risk Assessment starts in the early stages of activity planning and goes on throughout the activity until all participants go home at the end of the activity. There are five simple steps. If you've done risk assessments elsewhere, these should look familiar.
Date/Time: Saturday 30th January 2021 10am
As with most things this year the County Scrapheap Challenge will be run slightly differently – it will be an individual event.
Each district is asked to select a cub to represent them. As a District it is up to you how you select your entry – section and/or district competitions. But please remember you MUST adhere to the local COVID Guidelines.
Each District can enter one cub into the county competition. They must be available on the 30th January to join a zoom meeting to "show and tell" their model to the judge.
The cub should make the item using only the recycling materials and craft products listed below and it should have taken them no longer than an hour to make. Please note they don't have to use all the items in the making of their model.
There can be only ONE entry per District - ADCs please email your entry confirmation by 16th January to [email protected]
The Theme for the model is: 'Funfair'
Materials to use:
Pencil/pen
2 egg boxes
10 pipe cleaners or 1m of garden wire
2 small water bottles
1 large cereal box
2 small empty match boxes
1 kitchen roll tube
4 single yoghurt pots
1 large yogurt pot
1 butter/spread tub
2 fruit/veg (berries/grapes) plastic trays
Paper clips
2m of string
a pair of scissors
6 rubber bands
Paint pots and brushes - Water based paints only – primary colours plus black and white
Glue/sticky tape
Click here for the Hampshire Scouts Pennant template
Hampshire Scouts have embarked on a new project involving every Section, Group and Unit in Hampshire, bringing us all together as we start to return to normal Scouting. The idea is for each Section, Group and Unit to create a pennant so we can join them together and display them at Activity Centre locations and future events.
We would like your Section, Group or Unit to design and draw these pennants, using the provided template. For your pennant, we would like your young people to draw a picture on the front of something they enjoy within Scouts, or something they are looking forward to doing. On the back of the pennant, please can you include some information about your Section, Group or Unit (your Section/Group name and Group logo/badge) and the first names (no last names) of the young people within your Section, Group or Unit (this can be handwritten or typed). Please send in your ONE chosen pennant per Section.
We will leave the activity up to you to plan, but this could be done face to face (following the COVID guide lines) or virtually. One idea would be to run it as a competition, where each young person designs the front of the pennant and a winner is chosen. This can also count towards certain badges, like the creative activity badge.
Once you have drawn your pennant, please copy it and keep a copy for your Section/Group/Unit, then please email it to us at [email protected] If you would like to see your pennant displayed at our Christmas event, please send them in by the 5th December 2020.
If you have any questions, please contact us at [email protected] 
click here to see an example Programme-Pixies-Pennant.pdf
Cub Scouts Support team meeting
16 December 2020 click to view
12 September 2020 click to view
Hampshire Cub Scouts section Zoom meeting for everyone involved in the Cub section.
Saturday 12 September 10am til 12
We plan to bring you any HQ and Hampshire County Scouts news
Give you an opportunity to discuss any issues/good practices
Discussed ways to help Pack leaders increase their knowledge
Please log on and join us - https://zoom.us/j/93109857615 Passcode: 849273 or Dial in via 0203 481 5240 Meeting ID: 931 0985 7615 Passcode: 849273
Thelma Young is continuing to disseminate information and is working with Deputy County Commissioner - Programme, Teresa Ginn, to support you.
Vacancies - Assistant County Commissioner - Cub Scouts, and members of the County Cub Scout team. If you would like to join the team please contact Deputy County Commissioner - Programme [email protected]

Save the date - Hampshire Scout section Zoom meeting for everyone involved in the Scout section. Wednesday 23 September 7:30pm til 9:30. More info on the Scout section page.
Assist the ADCs - Cub Scouts in the encouragement of all in the Cub Scout sections to provide a balanced programme via;
Promotion
Encouragement
Teamwork
Work in partnerships
Maintaining relevant contact
Having FUN!
You should enjoy;
Workshop Meetings
Being part of the Hampshire Scouts Programme team
Staying relevant
Supporting with practical skills
Sharing success stories
and you thought the role was boring!
Interested?
Please contact: Teresa Ginn
Deputy County Commissioner - Programme [email protected]
Whether you're an experienced Akela or new to the pack, the Scouts' new programme planning tool is here to make planning for your pack easy peasy.
Available at scouts.org.uk/programme-planner, it's the result of years of work and is full of ideas directly linked to badges, awards and the Chief Scout's Silver Award.
A programme on a plate.
Starting out or don't know where to start? When you create a new programme then you have the option to import a full 2 year programme with a host of balanced sessions that cover pretty much everything you would need in the programme.
Plus as it covers all seven challenge awards, a Cub Scout who follows this programme for a full 2 years will be well at the finish line of their top award – the Chief Scout's Silver Award. This is especially good if you find not many of your Cubs are reaching the top at the moment. Why not spend a few minutes giving it a glance.
Take a pick of your activities.
We've all been in a situation like this. Our Cubs are finding a classic skill boring or we don't want to repeat the exact same activity we did last year. Forcing them to do something they don't like will not work and we would rather not have to deal with the behaviours boredom can create. What to do?
The programme planning tool can help here as well. The tool is packed full of activities that work towards the badge requirements and often in ways you wouldn't have thought of first time. Plus for badge requirements these activities are super easy to find. Just find the badge on the scouts website and underneath it is a teal coloured box with loads of activities that you can use for this badge. And these activities keep on growing so you won't be stuck for choice.
How good are the activities?
The activities include everything you might need to think about including safety messages, reflections, print outs and resources and which groups it works well for. These activities have really come into their own since the coronavirus pandemic as lots can be repurposed easily for the Great Indoors.
And for those who prefer OSM activities then we have good news for you. A lot of these activities are so good they've been included in OSM's activities database as well.
Why not give it a go today.